Becton Regional High School has proposed a 90,000-square-foot expansion of its campus, as depicted in this rendering, in connection with a $55 million bond referendum scheduled for March 8. — Courtesy: Becton Regional High School
---
By Joshua Burd
Officials at a regional high school in Bergen County have proposed a $55 million expansion that would allow for sweeping enhancements to its curriculum, facilities and special needs education.
The plan by Becton Regional High School, which serves Carlstadt, East Rutherford and Maywood, will be the subject of a bond referendum that voters will consider on March 8. If successful, the initiative will set the stage for a 90,000-square-foot addition that would create six STEM-specific industrial labs, four special education spaces inclusive of a full-scale life skills apartment, a rooftop solar observatory, a new regulation-size community gymnasium and a full technical annex for a host of vocations, among other features.
Becton Regional has served Carlstadt and East Rutherford high school students for some five decades, according to a news release. It now includes those from Maywood as part of a recent addition that came alongside a tuition adjustment, which officials say will significantly assist in offsetting the proposed bond.
"The introduction of the Maywood students, the historically low interest rates and the dynamics of the educational financial model have come together to provide a once-in-a-lifetime opportunity to transform our high school and secure its education leadership for generations to come," said Kathryn Fukushima Becton's board president.
Plans for the new technical annex call for teaching skills such as carpentry, masonry, electrical, metalworking and areas such as hydroelectric, solar and geothermal energy, the news release said. The expansion would also include an expanded wellness center and sensory garden catering to Becton Regional's autistic population, an industrial culinary and baking kitchen and studio, a cosmetology program and fashion design studios.
Di Cara | Rubino Architects of Wayne designed the addition to the East Rutherford campus, drawing on previous expansion projects at places such as Red Bank Regional High School, the Passaic Gifted and Talented Academy and West Caldwell Tech.
"The BecTech Center for Adaptive Innovation & Creativity will allow students to gain experience in a variety of modern-day careers and provide seamless interdisciplinary collaboration between a variety of different fields," said Dr. Dario Sforza, superintendent and principal at Becton Regional. "We have such a strong foundation built by our Wildcat spirit and community of excellence, and this expansion will only continue our trajectory of being the future model and next generation school campus for all high schools across the country. It helps bring our students back home and offers every level of student a chance for success in nearly every post high school career — whether they are college bound or not."
The proposal carries a tax increase of about $14.50 per household per month for Carlstadt and East Rutherford, the news release said. The two communities would be responsible for $17.2 million each, with Maywood providing $15 million through tuition payments and additional funds supplied by Becton Regional's internal cash reserves of $6.2 million.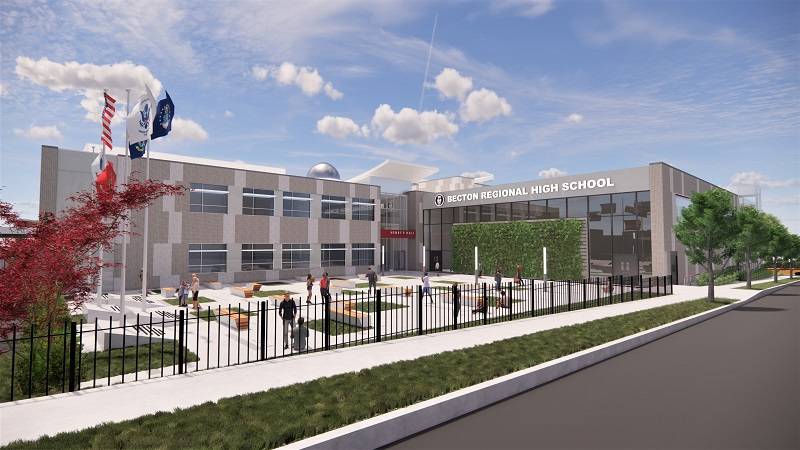 Becton Regional's board has already approved the bond, which would have a 25-year term.
"This investment represents an extraordinary set of direct and indirect benefits to our communities," Becton Board Vice President Zakaria Kandiel said.
School officials also detailed plans for an outdoor plaza with a listing of veterans' names.
"This expansion redefines the future of high school education," Sforza said. "Every student in our three districts will have the chance to succeed in whatever direction they choose after graduation. They will have the opportunity to partner with local colleges, universities, technical schools and high-tech innovators like Amazon, putting them in position to fill the jobs of the future.
"We are embracing the opportunity to address these needs now, as they will only get more expensive to address in the future, when costs of construction, interest rated and disruption are certain to increase," he added. "The risk loss of student population and increased out of district tuitions are near certainties unless we make our school the most relevant institution it can be, so now is the time to act and make sure Becton Regional has another historic 50 years ahead as we invest in our next generation of students."