By Kathleen Lynn
A Jersey City warehouse is being transformed into a film studio at a cost of $20 million, as the developer bets that a state tax credit for film production will get the cameras rolling in the Garden State.
Other developers and property owners are making a similar bet — despite some criticism of the program — amid surging demand from the film and television industry, plus a recent move by Gov. Phil Murphy to expand the supply of tax credits.
"The determining factor is the production companies, which are coming to New Jersey purely because of the tax credit," said Shibber Khan, head of the Criterion Group in Queens, New York, in describing his company's reasons behind the new studio project in Jersey City.
The complex, at 21 Caven Point Ave., is expected to open in mid-2020 under the name Caven Point Studios. The developer says it will be the largest studio in New Jersey, and state officials hope the project is the start of a wave of development in response to the Film Tax Credit program, which offers a total of $75 million a year in incentives to film and TV producers.
"The tax credit creates a constant flow of activity and paves the way for construction of studios, equipment houses and other businesses that come into the state because of the activity to support them," said Steven Gorelick, executive director of the New Jersey Motion Picture and Television Commission. "It's the most important and powerful way to attract permanent businesses that create the foundation of an industry here."
Film and TV production is already on the rise in the state since the credit went into effect in mid-2018, Gorelick said. And, he said, a number of commercial real estate firms are hoping to build studios to capitalize on the incentives.
"I have companies that are searching for real estate right now," Gorelick said in an interview late last year. "I'm talking about very large projects."
Developers are looking both at adaptive reuse, such as turning warehouses into studios, as well as new construction, he said. But most proposals are not yet at the stage where they can be announced, he added.
Khan said his company's decision to renovate the Jersey City warehouse, which Criterion bought in March for $16.75 million, would not have happened without the tax credit. Developers don't get any tax incentives themselves, but Khan believes they will attract production companies that otherwise wouldn't have come to New Jersey.
"Those tax credits are a driving force," he said. His company is converting the warehouse, in the Canal Crossing redevelopment zone, into studios and sound stages by elevating the roof in part of the building, from 18 feet to 53 feet. In addition, Criterion is updating the electric and HVAC systems.
The studios will take up 70,000 square feet of the 135,000-square-foot building. Criterion already has filming projects lined up for the space, Khan said in an interview in November, but he said it was too early to disclose them.
He and other developers are hoping to reap the benefits of what is an old initiative that was revived by state officials, led by the Murphy administration. New Jersey's first filming tax credit was started in 2006, offering $10 million worth of tax breaks annually. But it ran out of money around 2012, Gorelick said.
Now, there's a total of $100 million in credits available each year on a first come, first served basis, following a recently enacted law that expanded the pool from $75 million. Production companies can receive a tax credit equal to 30 percent of their production expenses, if they meet certain guidelines. The tax credit goes up to 35 percent in the counties of Atlantic, Burlington, Camden, Cape May, Cumberland, Gloucester, Mercer and Salem, to encourage more activity in a part of the state that traditionally has not attracted as much film production.
The recently enacted law, signed by Murphy on Jan. 21, also extended the program from the current five years to 10.
"To have any startup business in the state where that business didn't have a foothold before, it's essential for the government to step in and create an environment for that business to flourish," said Eugene Paolino, a partner with Genova Burns in Jersey City, who represents Criterion.
However, New Jersey Policy Perspective, a progressive think tank, is among those to have questioned the use of tax credits to attract film production, and business in general, saying that, in many cases, the job gains are too meager to justify the loss of tax revenue.
"The return on investment [for tax credits] is not that great," said Sheila Reynertson, a senior policy analyst with NJPP. "Let New Jersey speak for itself as a great place to do business, and the business will come."
Reynertson said that lawmakers would achieve more through investments that make New Jersey a more attractive place to do business — such as improved public transit, more job training and increased resources for higher education, to produce a more skilled workforce.
"We have foregone revenue to an economic growth strategy that doesn't really deliver," Reynertson said. Moreover, she said, film and TV jobs tend to be short-term positions that end once the project is done, rather than permanent jobs.
The debate is also brewing amid uncertainty over another set of tax incentives, which are also controversial. Chief among them are the Grow New Jersey and Economic Redevelopment and Growth programs, which have provided a major jolt to the state's commercial real estate market in recent years. But Murphy and other critics have blasted the tax credits, which are tied to job creation and development, as being overly generous and mismanaged. Consequently, the programs lapsed last summer after the governor and state lawmakers could not agree on a new framework for the tax credits.
Published reports in early January indicated that Murphy and legislative leaders hoped to rekindle discussions after the lame duck session and closer to the state's budget season.
In the meantime, Gorelick and other state officials are touting what they say are vast job creation and other economic benefits that can come from filming.
"One season of a television show can generate $50 to $60 million spent in the state," he said. "Feature films can spend millions in a matter of days."
Other supporters of the tax credit say that, as the film industry grows in New Jersey, it will be able to offer steady work. Khan says that New Jersey has more industrial properties suitable for conversion to studios than New York has.
What's more, the gains aren't all financial.
"It projects the image of New Jersey as a desirable place to live and work and vacation," Gorelick said. "People certainly come to New Jersey because they've seen locations on TV and in movies."
Let's pause here for a flashback to an earlier era. The movie biz had its start in Fort Lee, where filmmaking was a major industry for about a decade starting around 1910.
These days, most of the filming in New Jersey is concentrated within about a 30-mile radius of New York City, Gorelick said, although Atlantic City is also a frequent location.
The NBC show "The Enemy Within," which has since been canceled, was filmed in the Izod Center in the Meadowlands in late 2018 and early 2019. Producers had come to the state looking for warehouse space where they could build sets, and the commission suggested the Izod Center, which closed in 2015.
"It's a case study in adaptive use," Gorelick said.
The state is attractive to producers in part because of its varied landscapes — the urban backdrops of Paterson, Newark and Camden; the sand and boardwalks of the Shore; the charming streets of small towns; the hills of northwest New Jersey and the farmland of South Jersey. With that variety, the Garden State can stand in for many different places.
"We're very versatile, with a variety of locations in a very compact geographic area," Gorelick said. "Also, our talent pool is one of the deepest in the world. The unions that serve New York serve New Jersey as well. You don't have to bring people in; they're here."
In addition, he said, parking is usually more readily available in New Jersey than in New York City.
Moshe Gross, owner of Reset Locations in Lakewood, which promotes New Jersey locations for film and TV production, calls the tax incentive "a game-changer." Film producers who used to ignore his calls are more interested now, he said, noting that the ABC drama "Emergence" recently filmed parts of two episodes at the Bell Works complex in Holmdel.
"New Jersey is on the map," Gross said. "The industry is starting to look over here."
For his part, Paolino also sees the tax credit as crucial to expanding film production.
"Do I think there's a future for this industry? I think there's a bright future," said Paolino, the Genova Burns lawyer. "If you can offer filmmakers a cheaper, faster alternative, particularly with the incentives we offer and the workforce we offer, I think there's a big market."
---
Lights, camera, action
The state's Film Tax Credit program has been tied to several high-profile productions that have agreed to shoot in New Jersey, including well-known urban locations. Chief among them are "Joker" and "West Side Story," which were awarded incentives last summer for shoots in Newark and Paterson, respectively.
The critically acclaimed "Joker," which delves into the iconic Batman villain's past, was produced by Warner Brothers Studios and was awarded roughly $2 million under the tax credit program. The screen adaptation of "West Side Story," which is produced by Twentieth Century Fox and directed by Steven Spielberg, was approved for some $7 million.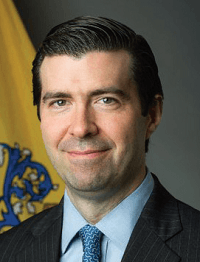 "Film and digital media are among the high-growth sectors targeted in Governor Murphy's economic plan because attracting major studio productions benefits the communities where filming takes place as well as the hundreds of businesses and workers throughout our state that supply materials and services for the film industry," said Tim Sullivan, CEO of the state Economic Development Authority. "We are especially pleased that Warner Brothers Studios and Twentieth Century Fox — two of the biggest players in the film industry — have not only decided to film here, but have also made hiring a diverse workforce a priority."
Here are other productions filmed or scheduled for filming in New Jersey since the tax credit was enacted in 2018:
The Enemy Within (TV)
Emergence (TV)
The Plot against America (TV)
Bruised (film)
Army of the Dead (film)
Trial of Chicago 7 (film)
Little America (TV)
The Many Saints of Newark (film)
Chemical Hearts (film)
You Should Have Left (film)
Beauty (film)
Masters of Doom (TV)
Hunters (TV)
Dickinson (TV)
Source: N.J. Motion Picture and Television Commission