A rendering of the new AC Hotel by Marriott in Morristown, a 160-room hotel that recently broke ground at 190 Park Ave., just off of Route 24. It is expected to open in late 2021 and will include a rooftop deck, meeting rooms, a restaurant and a bar/lounge.
---
WHIPPANY, NJ – JMF Properties, one of New Jersey's leaders in residential and commercial redevelopment, has emerged from 2019 with a growing roster of brand-name retail and hospitality tenants.
Major brands such as Costco, Whole Foods, Lidl, Lowes, Old Navy and Marriott have opened new locations or announced lease signings at properties developed by JMF and partner RD Management within the last year. Whippany-based JMF, led by its Founder and Principal Joseph M. Forgione, has made it a point to recruit well-respected, high-traffic tenants that appeal to consumers and provide a benefit to local residents and shoppers.
"Bringing a Lowes, Whole Foods, or Costco to a property can be challenging, but the benefits of having a highly-recognizable anchor tenant can be extremely rewarding for all stakeholders, including the host municipality," Mr. Forgione said. "Working with big brand-name tenants who share our vision for thriving shopping centers and mixed-use properties has become an important part of our value-creation strategy."
For JMF, recruiting prominent tenants begins in the early stages of the development process.
"These businesses conduct extensive due diligence before signing a lease. The site has to be almost perfect," Mr. Forgione added. "We know what they are looking for in a property and are able to anticipate their needs."
JMF's most recent announcement is the launch of construction on a new AC Hotel by Marriott in Morristown. The 160-room hotel broke ground in March at 190 Park Avenue, just off of Route 24. It is expected to open in late 2021 and will include a rooftop deck, meeting rooms, a restaurant and a bar/lounge.
JMF is also bringing the Marriott brand to Hanover Town Center in Whippany, where a 150-room Townplace Suites & Fairfield by Marriott hotel is being developed, alongside 190 multi-family units and 125,000 square feet of retail. The expected delivery date of the hotel is late 2021.
Last March, JMF celebrated the opening of Costco Bayonne, a 157,000 square foot store and 18-pump gas station that is the first tenant at Harbor View Marketplace on the Bayonne waterfront. Harbor View Marketplace consists of 240,000 square feet of retail space and is adjacent to its sister property, ScenicVue, a collection of 651 luxury rental residences developed by JMF and partner RD Management that is currently under construction. A variety of additional retail tenants have signed leases at Harbor View Marketplace, including Starbucks, CVS, LA Fitness, and Lidl grocery.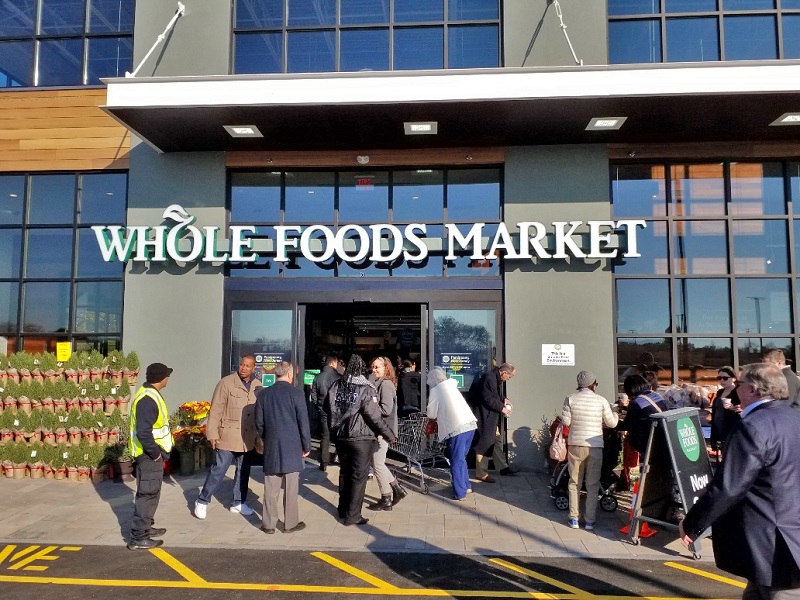 In November, JMF celebrated the opening of Whole Foods at Waterview Marketplace in Parsippany. The 50,000 square foot store's opening gave area shoppers access to a variety of fresh and healthy grocery products. Other tenants at the shopping center include Orangetheory Fitness, Ulta Beauty, MedFirst, Homesense, the Paper Store and Shake Shack. Old Navy recently signed a lease to move into a 12,500 square foot space this summer.
JMF also welcomed Lowe's to its portfolio of retail tenants this past summer. The home improvement store opened a brand new location at Cedar Village, the shopping center on East Hanover Ave. in Hanover Township. The 118,000 square foot store is the anchor tenant for the 19-acre site, which will soon also include a 7-Eleven with gas.
New retail projects in development include the Marketplace at Eatontown, a 265,000 square foot shopping center slated to break ground in spring, 2021. On the residential side, JMF continues to be one of the state's top transit-oriented developers. The company has opened residential and mixed-use properties in Maplewood, Plainfield, Denville, and New Brunswick in recent years, in locations with easy access to mass-transit. More than 1,800 additional residential units are in various stages of approval or construction, slated for locations in Bayonne, Berkeley Heights, Glen Ridge, Morris Plains, Morris Township and Little Falls.
For more information, visit www.jmfproperties.com.
---
About JMF Properties
Under the leadership of Joseph M. Forgione and his 25 years of experience in the industry, JMF Properties has developed a reputation for creating residential, retail and mixed-use communities of lasting value in some of the state's most desirable locations. Mr. Forgione has developed more than 2,500 residential units and multiple commercial and retail properties during his career, with more than a dozen current projects totaling one million square feet of retail and 1,800 residential units in various stages of approval or construction, ranging from transit-oriented developments to urban and suburban retail centers to sprawling office parks.
As a former long-time Commissioner of the New Jersey Sports and Exposition Authority, a graduate of civil engineering, and a member of the New Jersey Civil Engineers, Mr. Forgione understands the unique responsibilities and needs of all stakeholders involved in the development process, including local government officials, architects, construction managers, investment partners, community members and end users. This holistic approach to development has been vital to JMF's success, allowing the company to identify under-valued assets, forge strategic partnerships, and develop dynamic residential and retail properties that enhance their host communities, including the first residential community designed for WELL certification in New Jersey. www.jmfproperties.com.