Pasquale Suriano, Edison Properties' executive vice president of construction and engineering, is part of the team overseeing the conversion of the former Newark Warehouse Co. building into what's known as Ironside Newark. — Photos by Jeffrey Vock for Real Estate NJ
---
By Joshua Burd
At Ironside Newark, Edison Properties is aiming to blend the past with the future.
Doing so is one of the main principles behind the firm's $80 million plan to convert a well-known, 107-year-old warehouse along McCarter Highway into state-of-the-art, loft-style office space. Edison Properties' Pasquale Suriano, who spent several years restoring buildings as an executive with WeWork, has seen the model be successful in other markets — and he believes the project will attract technology firms and forward-thinking office tenants from other sectors.
"I think there's an element of that adaptive reuse of a building with history that attracts people," said Suriano, executive vice president of construction and engineering. "There's a story to tell."
Working with Perkins Eastman, the firm is slated to complete its rehabilitation of the former Newark Warehouse Co. building by fall 2018. Edison is preserving and restoring the façade of the structure, while cutting out more than 300 window openings in order to bring in natural light to the tenants that will ultimately repopulate the space.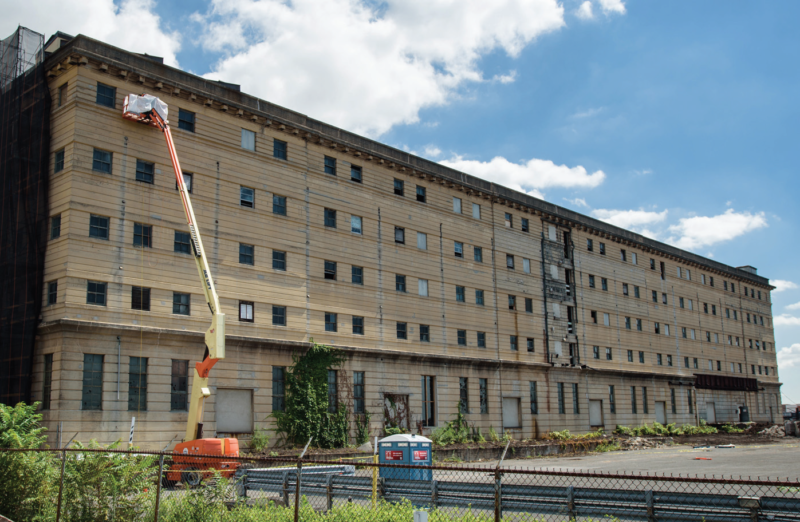 The more than 400,000 square feet of office space inside the building will feature high-speed internet service via Newark's underground fiber network, along with modern mechanical systems that effectively offer on-demand heating and cooling systems.
Suriano said that versatility was important in attracting companies from different industries as well as users of different sizes.
"In that regard, I think we're catering to a wide array of possible tenants," he said. "Obviously, the trend is to deal with a tech-savvy environment because of what we're offering, but the potential tenancy that has approached us is a wide spectrum of tenants."
The project will also benefit from its location about a block from Newark Penn Station and from what will become of the surrounding neighborhood. Edison Properties is one of the lead developers in what will be known as Mulberry Commons, a $100 million, 22-acre project to redevelop surrounding parking lots into a sweeping public space connecting Newark Penn Station, the downtown, the Prudential Center and the Ironbound section.
It will all be part of a new environment that Edison feels will create a cutting-edge workspace at Ironside Newark, which will also include two floors of retail and restaurant space fronting directly on the planned Mulberry Commons area.
"There's a buzz in the cities about these buildings that have sat vacant for decades in some cases that are now being repurposed," Suriano said. "It's just an exciting story and people want to be a part of it from a professional point of view. And if you can mix in that social element, it's just makes it that much more exciting to get up and go to work every day."