A rendering of The District, a mixed-use project by Connell Real Estate & Development Co. that will include 328 apartments, retail and entertainment space. — Courtesy: Connell Real Estate & Development Co.
---
By Joshua Burd
Even in the midst of a pandemic, the daily worker population at 200 Connell Drive is at nearly a third of what would be its occupancy in normal times. That's well above the four other office buildings at the sprawling Berkeley Heights campus long known as Connell Corporate Park.
The difference is clear, as Shane Connell points out during a tour of the 343,000-square-foot building. The five-story property has been transformed over the past two years, from a new jewel box façade to the addition of upscale dining options, an on-site clinic and a fitness center that's akin to a New York City health club.
"This was our least desirable building," said Connell, the executive vice president of Connell Real Estate & Development Co. "Now it's our most desirable."
Even so, the upgrades at 200 Connell Drive and the campus at large have only just begun. Connell Real Estate, the developer and longtime owner of the park, is in the midst of a sweeping, $400 million improvement and expansion of the 185-acre property, one that will create new apartments, restaurants, entertainment and urban-style park space by 2023.
The concept is by no means uncommon in a state that is filled with aging suburban office parks, but Connell sees one key differentiator: The revamped office space and the new mixed-use development will be supported by a campus-wide, in-house team that will provide everything from meal planning and personal training to events and social programming.
He sees it as the secret to not only modernizing the 1.5 million-square-foot office park, but creating a new quasi-urban destination for the surrounding communities.
"There's obviously a lot of mixed-use campuses and suburban campuses trying to do this," Connell said, noting that the park was home to 5,000 daily office workers before the pandemic. "We're trying to do it a little differently, so we're trying to say that, regardless of building type, we have this hospitality approach to service and an elevation of this work-life balance."
The development firm, one of many business units under the privately held, 94-year-old Connell Co., is already some five years into the ambitious project. The property welcomed a new Embassy Suites by Hilton in 2018, bringing 176 hotel rooms and event space for both business and leisure guests. It largely completed its renovation of 200 Connell Drive in early 2019 and will soon debut a sleek, 40,000-square-foot venue known as Round Table Studios, bringing a shared, flexible workspace facility to the building and to the campus now known as The Park.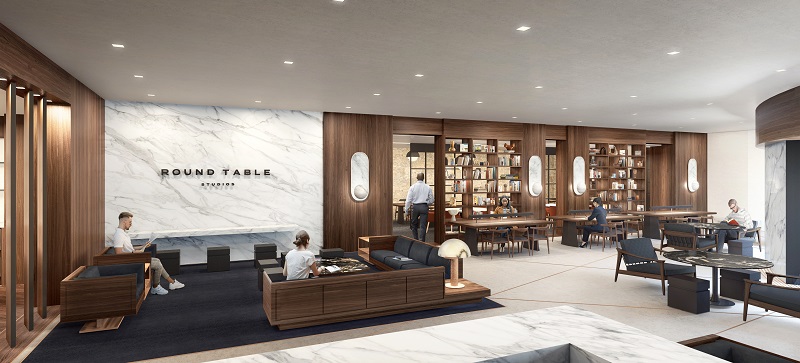 ---
The plan represents a new chapter for the sprawling campus, which is 22 miles from Manhattan and also serves as Connell's headquarters. The multigenerational company, which started in 1926 as a rice trader and commodities broker, has assembled the property through 11 acquisitions starting in the early 1980s. It was a successful participant in the speculative office boom that occurred through the next two decades, creating five buildings that have attracted the likes of AT&T, AIG and L'Oréal.
But as the market changed and the buildings aged, Connell said it was time to decide whether to "create something different" or to exit New Jersey's suburban office sector, as other landlords have in recent years. The company chose the redevelopment option, banking on the site's location and the migration of Big Tech to Lower Manhattan.
"We're on Route 78, we're around all of these affluent towns that commute to New York City and we see this trend of millennials coming to the suburbs," Connell said, citing New Jersey's connectivity with Lower Manhattan. "Our thought is that the tech firms are eventually going to start looking in the suburbs, families are going to start living here, so let's build a campus that's comparable to what they've got on the West Coast."
The company took to analyzing what companies such as Google, Amazon, Facebook and Apple are doing out west and sought to "take that ecosystem and create it for a multi-tenanted park."
"That's the primary goal of this — to do a work solution so that what companies are doing for their own headquarters to attract and retain talent, we should do for every company, so that they're part of this ecosystem and we give it to them," Connell said. "All of these amenities are gearing toward: What do companies need to attract talent and what are they not getting in the suburbs that they get in the urban environment?"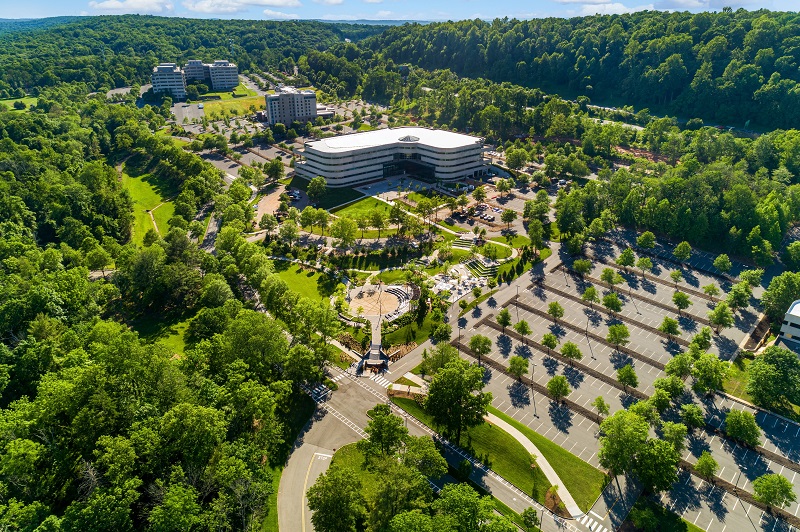 The campus had already added a non-office user in 2009 when LifeTime Athletic opened a 112,000-square-foot facility at the eastern end of the property, under a 40-year ground lease with Connell. But the developer had begun to mull the future and the broader mission of the property by 2014, when it broke ground on the Embassy Suites.
The company will now continue to reposition its office buildings after the success of 200 Connell Drive, and it's now planning a walkable, urban-style development known as The District that will include 328 apartments, retail and entertainment space. Importantly, Connell said the firm is designing the buildings so that they connect with both the office and hotel components, while also complementing rather than competing with the surrounding downtowns of Berkeley Heights, Summit and other municipalities.
That means "restaurant concepts that benefit the work experience here" while serving as a destination, such as a duckpin bowling concept, a Southern California-style taco stand, a brewery and a beer garden with rooftop event space.
"Those are all concepts we're creating with our culinary and hospitality team to then activate this place with all of these new and sort of urban uses," Connell said, noting that The District will also feature a Main Street with about 30,000 square feet of additional retail.
"We'll see if we can attract other people that then want to be part of this ecosystem," he said. "But the goal is to really create some place different from an offering standpoint that attracts people to want to work here."
The project still requires site plan approval from the township, but Connell expects to start construction on both the residential and the dining and entertainment components early next year, with completion slated for summer 2023. As those uses take shape, the firm will remain focused on ensuring that they are connected with the entire campus.
"We do that by the servicing, so whether you live here or work here, you get the same access to meal plans, same access to nutritionists (and) … access to Eden Health," he said, referring to The Park's on-site health care provider. "So we're connecting all services to one ecosystem, but then also connecting it physically with really high-end, urban-type trails."
There's little doubt that Connell sees outdoor space as equally critical to The Park's long-term success. The center of the campus already boasts an array of benches, a great lawn and a multilevel, concrete feature with stadium-style seating, all of which stemmed from a recent $4 million investment.
The area, known as The Grove, connects to a newly expanded trail that will run through the campus. And it's only the start of the developer's plans outdoors. In the coming years, Connell will expand The Grove with high-end playground areas, a 1950s-style burger joint, sport courts and a dog park, among other features.
"This is an in-campus approach that's open to the community," Connell said. "And so in order to get them to want to be here, you really have to build something that's totally different and nice. That's the commitment."
The team has drawn inspiration from spaces such as the High Line and Hudson River Park in Manhattan, which "ties into feeling more urban, because you would see more people here, so you don't feel like you're so isolated in the suburbs." But Connell noted that The Park is just minutes from the popular Watchung Reservation, which draws walkers, hikers and outdoor enthusiasts from miles away.
He believes The Park — with its added allure of restaurants, shopping and recreation — could ultimately become an additional stop for those visitors.
"If we could actually connect — we're only a quarter-mile away — and they would actually end here, we can be an extension of the reservation as well," Connell said. "So from a resident standpoint, if you have access to that huge property over there and this park here, it's a totally different lifestyle."
---
Proof of concept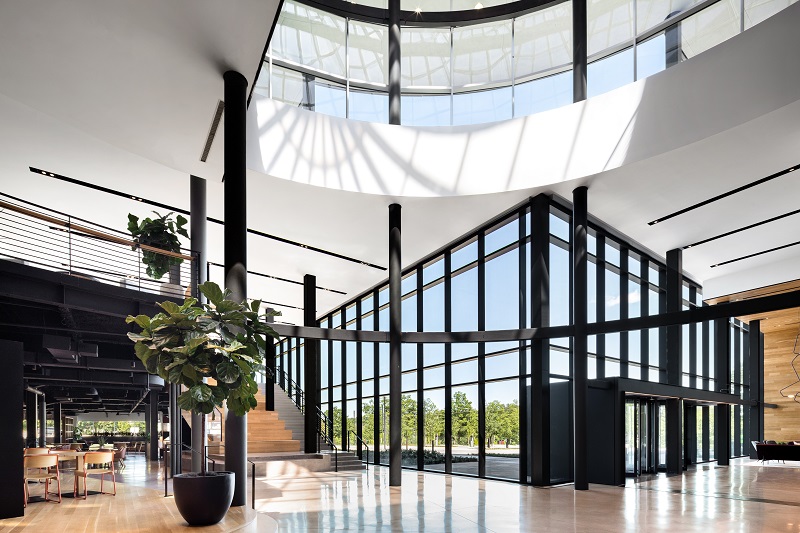 The new-look campus known as The Park will draw from a range of influences, from West Coast dining concepts to public spaces inspired by Manhattan's Tribeca neighborhood. But the Connell Real Estate & Development team said the campus will be interconnected by the firm's focus on wellness, elevated cuisine and social interaction. The company is building a team to that effect, as it looks to hire everything from a nutritionist to a concierge and events director.
"Our goal was to really get some core talent at some elevated levels," said Steve Kilroy, Connell's senior vice president of hospitality and marketing, who joined the firm in 2018. That has included last year's hiring of Brian Bistrong, the property's on-site executive chef, who has brought decades of fine dining experience alongside chefs such as Wolfgang Puck, David Bouley and Gray Kunz. The campus team also includes Ashley Davis, its catering director and pastry chef, who oversaw the commissary kitchen for New York-based Dean & Deluca.
The group has since helped to reinvent 200 Connell Drive, which is now a showcase for The Park's new services and a prelude to how Connell will improve its four other office buildings. Those services include higher-quality food options such as made-to-order bowls and sandwiches, hot dishes and cold-pressed juices, along with affordable grab-and-go meals that are all made in house.
The team is also focused on convenience, Connell said, pointing to the refrigerated Penguin Locker in the lobby that allows tenants to preorder dinner via a mobile app and pick up their meal on their way out.
"Every single one of the office buildings will have elevated service, so you feel like you're eating at a restaurant instead of a café," Connell said. "That approach is then scalable because we're then going to add restaurants to the campus, catering to the campus, so this team supports all of that."
Photos by Aaron Houston for Real Estate NJ
---
He added that dining goes hand in hand with both nutrition and fitness, which are both part of the company's formula at The Park. The campus' on-site fitness director, Ryan Kennedy, recently joined Connell and now oversees a high-end, 12,000-square-foot gym that opened last year. The space, known as the Fieldhouse, includes a full selection of weight and cardio equipment, a studio and modern locker rooms, along with additional workspaces and a lounge area with a pool table, a dartboard and other amenities.
The facility, which has operated during the pandemic using a reservation system, has remained popular even without a full-time office population. Tenant employees who are working from home often come to the campus just to use the gym or get a meal, Connell said, "so it's now become their hub.
"They don't have to actually work here all day, but they like to come here because these things are sitting here," he added. "So it's working. With this whole change in work, even if you have the option of working at home, I'd rather be here because I get to see people, I get to have these amenities, and I can still work at home at some point during the week."
The building, which is home to tenants such as Samsung, Hewlett-Packard and Jackson Lewis P.C. — also boasts a new on-site clinic by Eden Health, a concierge-style provider that offers primary care, physical therapy, behavioral health and other services. Along with having a full range of exam rooms and facilities on the premises, the company offers telemedicine through a mobile app that is available to office workers, hotel employees and the Connell team.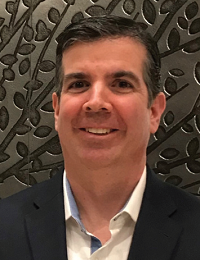 Eden Health has also provided COVID-19 screening services during the pandemic. According to Brian Healy, Connell's senior vice president for capital markets, the provider "fits the hospitality thread" of the entire campus.
"It's a real high-touch-point service, so we wanted to align ourselves with someone that fits our strategy and the culture we're creating here for campus wellness," Healy said.
By year-end, 200 Connell will welcome its newest addition in the form of a shared, flexible workspace. The landlord has partnered with Hana, a CBRE subsidiary, to open the 40,000-square-foot space under a branded concept known as Round Table Studios, offering a selection of workstations, private offices and common areas.
The two-story space will also feature a restaurant, RT Farm, as a gourmet dining and café option for members that can be converted to a cocktail bar after hours. It's among several flexible event and hospitality spaces that will be available to both individual members and office workers at The Park whose companies have joined Round Table Studios.
To Connell, "this is basically the face of the change to our culture at this campus, so any prospect that comes to look at big space, we're going to bring them here and show them that this is now part of this campus."
"Co-working is primarily what this is all about, but then there is a social element where you have access" to programming such as speaking engagements, live music and pop-up chef events, which he believes will appeal to both smaller users and large tenants.
Even with Round Table Studios still under construction, the landlord has already seen the benefits of its $30 million investment at 200 Connell Drive. The building has seen rent appreciation of $8 per square foot since the investment, a significant milestone for a campus that has always enjoyed near 95 percent occupancy — thanks in large part to its location on I-78 — but never saw significant rent growth.
Connell also noted that building 200 was "always the most volatile" in terms of occupancy, so "we decided to do this one first" when it came to overhauling the five office buildings.
"It was a huge change in the perception of what this building was, and now it's (about) taking the same design, character and operating and taking it to the campus," Connell said. And that's before the company's on-site hospitality and wellness team is fully staffed.