By Joshua Burd
JRM Construction Management has bolstered its business development and estimating departments with three of its newest additions.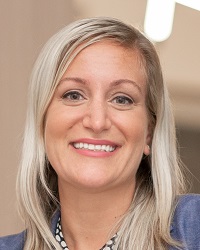 The new hires include Antonina Caruso, who was named director of business development for the Carlstadt-based firm. In the new role, she works closely with the executive leadership to develop and build relationships on a national level and assist in the continued growth of its New York, New Jersey and West regions.
Prior to joining JRM, she served as director of business development and marketing at Holt Construction Corp., where she led the business development department and planning efforts for the company and managed client relationships on an executive level, according to a news release. She brings more than 18 years of commercial construction industry experience.
Meantime, the firm has tapped Ed Shannon as business development manager. He works closely with Caruso in supporting the executive team to build relationships and identify opportunities throughout the tristate area.
Shannon's prior experience includes six years leading all business development efforts for a construction management company in New Jersey. He worked closely with the management team to cultivate relationships and identify opportunities with owners, architects, engineers, owner representatives, brokers and developers.
JRM's new hires also include Sean Galvin as chief estimator, who is responsible for all estimating operations for the New Jersey region, the news release said. He oversees the preparation and final submittal of budgets and estimates produced by the estimating team while maintaining a culture of teamwork, accountability and precision.
Galvin brings 28 years of estimating and purchasing experience, joining the firm from Holt Construction. As chief estimator, he managed all estimating activities across five office locations.
Prior to Holt, Galvin spent 20 years at Structure Tone, where he last held the estimating and purchasing manager position. In that role, he led a team of 20 estimators overseeing the bidding of projects up to $300 million.
Caruso sits on the Ambassador Council of the organization known as NEW, or Non-Traditional Employment for Women, and strongly advocates for women in the trades and diversity in the construction industry, the news release said. She is also involved with philanthropic organizations such as Donate 8 (Live One New York), Covenant House New York and the Alzheimer's' Association.
Shannon, meantime, is also involved with the philanthropic efforts, currently serving as a member of the commercial real estate committee for the United Way of Northern New Jersey.