New Jersey City University President Sue Henderson speaks at a ceremony highlighting University Place, a 22-acre redevelopment project on the west side of Jersey City.
---
By Joshua Burd
For the crowd gathered on the west side of Jersey City on Monday, there were two reasons to celebrate.
That's because the group of dignitaries and well-wishers were marking two milestones at New Jersey City University — the opening of a new student housing complex and the start of a nearby development that will bring new market-rate apartments and retailers to the area.
To NJCU President Sue Henderson, the milestones couldn't come soon enough.
"We all know what's been happening on the other side of the city — they've had unbelievable growth over the last 20 years and, in the last five years, have really grown dramatically," she said. "This side of the city is really in need of some growth and revitalization."
That resurgence is now starting to take place with the help of stakeholders on the west side, Henderson said, as she opened the dual ceremony. Also on hand were executives from The Hampshire Cos., Claremont Cos. and Circle Squared Alternative Investments, the joint venture that is developing two of the four mixed-use projects under a plan known as University Place.
The team held a ceremonial groundbreaking for the first of those projects, which calls for 163 apartments and some 10,000 square feet of retail space on West Side Avenue. Occupancy is slated for 2017, giving way to three other similar phases over the next five years.
With the newly built, 425-bed residence hall as backdrop, speakers on Monday emphasized the complexity of the $400 million master-planned community. But the plan is moving forward thanks in part to state legislation that allows private developers to build on state university-owned land, along with tax abatements approved by the city earlier this year.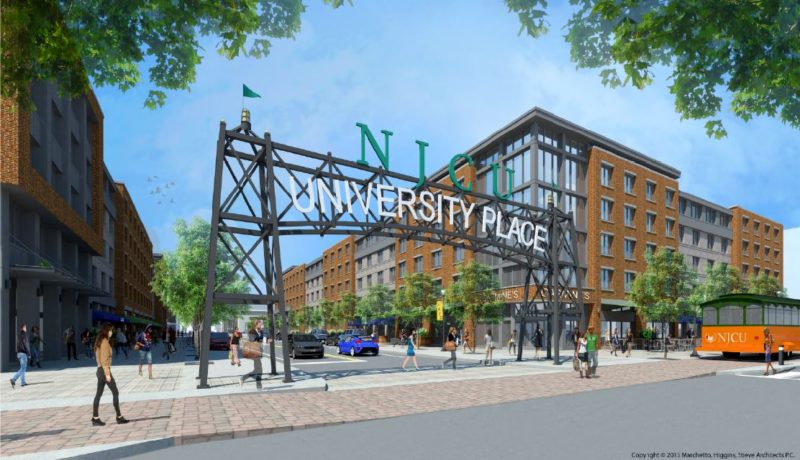 "It's a great project," said Hudson County Freeholder Bill O'Dea, noting the overall plan would generate some 1,500 union construction jobs. "It's taken a lot of work, there were a lot of challenges, but the city, to its credit, really stood up and put its money where its mouth is."
Richard Sciaretta, principal with Claremont, said the common goals among the project's stakeholders helped the deal to come together. That allowed the project to move forward in just a year after it qualified for the state's public-private partnership program, he said, noting that "it sounds like a long time to most people, (but) in development, that's light speed."
Monday's ceremony also recognized former NJCU President Carlos Hernandez, who laid the groundwork for University Place before Henderson's arrival in 2012. Before that, the school had spent more than a decade acquiring and remediating what were largely industrial sites around the campus, paving the way to the 22-acre development plan.
Speakers also highlighted the role of Anthony Bastardi, chairman and CEO of Strategic Development Group in Fairfield, who helped craft the current University Place plan.
All told, University Place will total eight buildings. Along with a total 600 apartments and ground-floor retailers, the project's additional phases include a 100,000-square-foot performing arts center and a ShopRite-anchored retail component along Route 440.
"Jersey City continues to evolve as a place that people live, work, play and learn, and University Place is going to be part of the continued evolution of this great city," said Norman Feinstein, vice chairman of Hampshire, citing its location and access to mass transit. "Couple that with the opportunity to enhance the neighborhood by providing access to amenities that will benefit the entire west wide, while offering living options that are very affordable, and we believe this project will prove to be something very, very special."
That type of potential was a key part of the appeal for investors in the project.
"We tend to represent investors that don't only care about the bottom line, that don't only care about, 'What are we going to invest in and what are we going to make?" said Jeff Sica, founder and president of Circle Squared Alternative Investments. "We represent investors who care about making a contribution, and most of all making a contribution to communities."