One MetLife Way in Whippany, the newly opened, 185,000-square-foot global headquarters of MetLife Investments.
---
By Joshua Burd
As Brian Whitmer tells it, there are plenty of $20-per-square-foot options for anyone looking for office space in Parsippany and the nearby Morris County suburbs.
Yet he points out that Sam Morreale and his firm, Vision Real Estate Partners, "keep building build-to-suits for Bayer, for MetLife" in those very submarkets.
When asked why that is, Morreale says it's about the fact that the demand for good suburban locations isn't gone. It's just a matter of offering tenants the type of modern, cutting-edge space that they might find in an urban setting.
"The market is still vibrant," said Morreale, founder and managing partner of Vision Real Estate Partners. "There is a lot of vacancy — the numbers will tell you that — but the transactions are happening where tenants can get the kind of space that they want to be dynamic workforce space for today.
"Therefore, you have the other end of the spectrum, where companies will actually have these buildings built in major redevelopments."
The exchange between Whitmer and Morreale, which came during a panel discussion in early December, shed light on the fact that the struggles of New Jersey's suburban office market are not as clear-cut as many still believe. Those challenges are in fact real, experts say, but there are still plenty of opportunities for owners and developers to make a splash.
Morreale's firm, along with Rubenstein Partners, did just that in an effort that goes back more than seven years. In the Whippany section of Hanover, the firm successfully dismantled an outdated office complex for Alcatel-Lucent and replaced it with gleaming new headquarters buildings for Bayer HealthCare and MetLife Investments.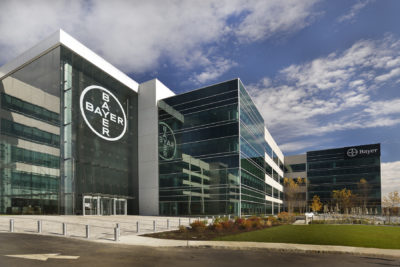 The state-of-the-art properties are 675,000 square feet and 185,000 square feet, respectively, opening in 2013 and 2016. The Mountain Lakes-based developer has since sold both properties, with the MetLife site commanding a price of $95 million in a deal completed last fall.
But industry leaders say it doesn't take a build-to-suit to find success in the suburbs.
Mitchell Rudin, CEO of Mack-Cali Realty Corp., said his company is seeing that firsthand as it continues to prune its vast portfolio of office buildings. In Short Hills, where Mack-Cali owns some 250,000 square feet and is acquiring another three buildings, it is achieving rents above $50 per square foot in some deals.
That's the type of submarket where the real estate investment trust is holding onto its buildings, along with Metropark and Princeton. And, in some suburban markets, Mack-Cali is making acquisitions to grow its presence.
In others, the REIT has been actively selling buildings and large portfolios.
Late last year, it began to seek a buyer for a 2.2 million-square-foot, nine-building portfolio in Bergen County.
"We've put a significant number of properties on the market — and we've got a buyer for every one of them," said Rudin, who took over as CEO in mid-2015. "And it's some of our venerable competitors and it's some of the other people who are a little more opportunistic and entrepreneurial to the marketplace. So we see this market very differently."
It's why Rudin, who was speaking at an event hosted by the Urban Land Institute in December, said the term "northern New Jersey" may be somewhat dated and far too ambiguous. At least when it comes to market research.
"The idea is that you can start to break this market up," Rudin said, noting that real estate professionals for decades have viewed northern New Jersey as a single market. But "(what do) Paramus, Saddle Brook, Parsippany, Hoboken and Jersey City have in common? Other than, before you put the ZIP code down, it says 'NJ,' those markets are vastly different."
For instance, vacancy rates in northern New Jersey range from 11.4 percent in the Short Hills/Route 24 submarket to 27.4 percent and 32.1 percent in the cases of Essex West and Parsippany, respectively, according to Newmark Grubb Knight Frank. Similarly, average Class A asking rents range from $23.26 per square foot in the Route 46 and Wayne area to as high as $43 along the Hudson waterfront.
In Parsippany, which was the epicenter of the suburban building boom some three decades ago, experts say the market is weighed down by the abundance of older stock. That means outdated parking ratios, older and less efficient utilities and design elements that have fallen out of favor with tenants seeking to appeal to young talent.
Here's what else it means: Owners who are willing to invest in upgrades and new amenities will stand out from the crowd.
"Every landlord in the old days would say, 'Bring a tenant to my building and then we'll do the work,' " said Richard J. Madison, an executive managing director with Colliers International who is based in Parsippany. "But, right now, it's more the proactive landlords that are seeing the success, and numerous buildings throughout New Jersey have gone this route."
Morreale, who also spoke at the December ULI event, said the base of Fortune 500 companies and other anchors that helped build Morris County are still in the market today. And they're still more than capable of fueling the market with major deals.
All it takes is for someone to create the right environment.
"I think that's why the contrarian play here is to say the market is still strong," Morreale said. "There's people out there, there's work out there … but we have a lot of old stock that we have to be aware of."
The case for the waterfront
The latest edition of the Urban Land Institute's annual Emerging Trends in Real Estate report — on display at a recent event in Jersey City — cast a light on so-called 18-hour cities and other markets around the country.
To some Garden State real estate experts, it's time for Jersey City and the Hudson waterfront to be recognized as its own jurisdiction, separate from the "northern New Jersey" designation historically used by ULI researchers and others.
For instance, Andrew Merin of Cushman & Wakefield noted that the waterfront submarket is more than 21 million square feet in size. He said that puts it in the top third of the 75 locales examined by the report. Not to mention that per-square-foot rents in the area are reaching "well into the 40s" and rising — a trend that would vault the submarket ahead of other midsized cities.
"What all investors look at is rent growth," said Merin, a vice chairman with Cushman & Wakefield. "And you don't see it in a lot of our suburban markets."
But Mitch Roschelle of PwC, who chairs the Emerging Trends report, said that one barrier is the way the research is compiled. The report draws data from the U.S. Census Bureau, which doesn't separate the Hudson waterfront in a way that would allow researchers to compare it with other submarkets.
The other roadblock is a simple matter of geography. That looms large, even if Jersey City has the same sort of demographics, vibe and trajectory as places such as Seattle and Portland.
"It's of the size and scale of some of those other markets and it's behaving and performing the same way," said Roschelle, real estate advisory leader with PwC. "It just happens to be across the river from Manhattan."