1776 On The Green, located at 67 Park Place East in Morristown — Courtesy: Vision Real Estate Partners
---
By Joshua Burd
Vision Real Estate Partners has bolstered its leadership team with the addition of directors of leasing and property management.
The Mountain Lakes-based firm announced this week that it has hired Christine Eberle and Charles Gatje for the director posts. With an ownership and management portfolio that now exceeds 5 million square feet in New Jersey, the developer said the new hires are geared toward supporting its growth in recent years.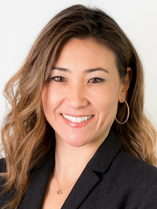 VREP also has an additional 700,000 square feet in its immediate pipeline and more than 150 acres of land parcels available for mixed-use and build-to-suit opportunities, the firm said in a news release. Meantime, it has a platform that oversees management, financial reporting and overall operational supervision for the entire portfolio, including company-owned assets and those the firm operates on behalf of other owners.
"As a firm, we are in a period of sustained, structured growth, and as we take the company to the next level we recognize the vital role our management team will play in enhancing our brand and our vertically integrated capabilities," said Sam Morreale, Vision Real Estate Partners' founder and managing partner. "Christine and Charles are established, successful industry leaders. Christine's comprehensive knowledge and expertise in structuring lease transactions that meet the needs of both occupiers and owners, and Charles' deep experience in all facets of managing a range of commercial properties will be valuable assets as we continue to provide the highest level of in-house expertise and services."
Eberle brings more than 15 years of industry experience to her new position as director of leasing, in which she oversees leasing for the entire VREP portfolio, the news release said. She previously served as a landlord representative with Cushman & Wakefield in New Jersey, including several leasing agency assignments for Vision Real Estate Partners.
Her ownership and services experience also includes past positions with Colliers International, NPV/Direct Invest and Grubb & Ellis. She attended Rutgers Business School and is a United States military veteran.
"This is an exciting time to be a part of Vision Real Estate Partners," Eberle said. "As the company continues its strategic growth in New Jersey, I look forward to contributing to this group of professionals whom I know well and respect."
Gatje leads the firm's property management team, assists in the underwriting and onboarding of new acquisitions and provides operational and financial oversight for its management division, the firm said. Prior to joining VREP, Gatje spent 10 years with Cushman & Wakefield's Washington D.C. property management division, where he performed operational, financial and construction oversight on behalf office building owners in the area.
Gatje holds a master's degree in real estate finance from Georgetown University and a bachelor's degree in business administration from the American University.
"The entrepreneurial, development-centric focus at Vision Real Estate Partners' organization was a tremendous draw for me," Gatje said. "After many years on the institutional side of the business, this is a natural next step, and I look forward to being part of this prominent company as it continues to grow and flourish."