Lance Blake, president of Rotwein+Blake and son of co-founder Edward Blake, joined the Livingston-based architecture firm in 1984. He now leads a team of about 20 and its practice of commercial, residential and mixed-use projects. — Courtesy: Aaron Houston
---
By Joshua Burd
It certainly isn't the first crisis that Rotwein+Blake has experienced as a business, so it's only natural for Lance Blake to compare the pandemic to "every downturn, every crash, every real estate bubble" that the architecture firm has seen during its 65 years in existence.
Fortunately, he said, the practice has weathered the storm.
"Other than the personal, emotional and internal side of it with employees, and the psychological aspect of it, I would say from a business perspective, it's not nearly as bad as 2008, 2000, 1990 or 1982," said Blake, the president and second-generation leader of the Livingston-based firm.
"And that's as far as I go," he quipped, adding: "Other than a few that got put on hold, I would say that business and most of our clients kept moving forward with their projects."
It doesn't hurt that Rotwein+Blake has made a point to diversify in recent years, expanding beyond its roots in the office and industrial sectors. The 20-employee firm now boasts a growing practice in multifamily and mixed-use projects, which account for more than two-thirds of its current pipeline, as it continues to work for many of New Jersey's most prominent developers.
"We've gotten more momentum … in multifamily and mixed-use, so I would say we have many more of those types of projects now than pretty much anything else," he said.
It's a far cry from the firm's founding in 1955 by Edward Blake, Lance's father, and Donald Rotwein. Early on, the practice played an active role in the growth of the state's office and industrial market, designing projects for clients such as Evans Partnership and Murray Construction Co.
With Lance Blake joining in 1984, Rotwein+Blake made an important pivot when it began to view interiors as a separate business line. Prior to that, Blake said the practice would essentially "give away" tenant fit-outs while designing core and shell projects for its large commercial clients, even as other firms were charging much more for interior spaces.
"That was a real missed opportunity," said Blake, who became the firm's director of design around 1986 and president in the mid-1990s. "(So) we decided to try to compete a little bit more in the interiors genre and make more of a business out of that."
To that end, the company hired a dedicated interiors professional, paving the way for a business that "definitely morphed and developed into something a lot larger" than when it was simply packaged with building design. Tenant work became an important part of the practice through the late 1980s and early 1990s, he said, as it provided those services to law firms, corporate clients and others.
Rotwein+Blake largely thrived in the two decades that followed, thanks to its work with clients such as Gale & Wentworth, Schenkman/Kushner, Adler Development and others. But those years also included economic downturns that would abruptly drain its project pipeline, making it clear that the practice needed to diversify. For instance, with the recession that took hold in 1990, the firm took steps to expand into new sectors such as retail and religion.
"We were kind of pigeonholed as spec office and industrial," Blake recalled. "That was our reputation and those were the developers that we were working for, so when recessions occurred those markets just fell off a cliff and we really had nothing. So in my tenure, after the first recession that I experienced, (we needed) to start getting into other genres."
The firm had begun its move into multifamily by the time the economy collapsed in 2008. Its first clients in the space were Roseland Property Co. and Century 21 Construction, which were partnering on a two-phase, 235-unit project in Verona known as the Highlands at Hilltop. As for how the firm won the assignment, Blake notes that he had worked on mutual projects with Century 21, which is owned by the Marino family, while he had known Roseland founders Marshall Tycher, Carl Goldberg and Brad Klatt on a personal level.
"Between Marino and Roseland, I convinced them to give me a shot," Blake said. "And it worked out — we did a good job for them."
As one might expect, "there was definitely a learning curve" when it came to entering a new asset class, "but overall they were very successful projects." And it has paved the way for what is now the anchor of the practice. Blake estimates that it was four or five years ago that residential and mixed-use projects overtook other asset classes as the majority of the firm's pipeline.
"It's a little scary from my perspective," he joked, given the company focus in its earliest years. That pipeline is now filled with projects for clients that have both a long history with commercial buildings and a growing appetite for multifamily, including Denholtz Properties, Russo Development and others.
The firm's interiors team has also managed to stay busy through the pandemic, even if the demand for space planning and new office fit-outs have slowed. Blake said the firm is continuing with a significant project for CrossRiver Bank and noted that many of its other ongoing projects, such as multifamily and religious buildings, have detailed interior needs.
In fact, Rotwein+Blake has even added to its interiors team during the pandemic. The firm in early October announced the hiring of Prabha Agrawal as a senior interior designer. Another new addition, Clint Ronsick, joined the practice in September after recently completing a master's program at North Carolina State University. Blake added that the team is sourcing new business despite the cloud of the pandemic, thanks to both referrals and the efforts of Isabel Turner, the firm's director of marketing. The company even receives calls from prospective clients who have simply seen Rotwein+Blake's completed projects around the state.
In recent years, sourcing new projects has also relied on the use of virtual and augmented reality. Blake said the visualization and the rendering process that the technology provides is "fully integrated in our design process, so it's really helped in terms of helping clients understand what they're getting." The platform has also helped attract new clients and ensure that they become repeat customers.
"Now it's something we can't live without," Blake said. "And any new technology that comes out, we're well-equipped to embrace."
The technology also provides another advantage going forward.
"We've always been competing against even larger firms, but I think now we're right there with them," Turner said. "And we have the technology, but we're able to offer that intimacy that the client really appreciates that the larger firms aren't, so it's a win-win for us."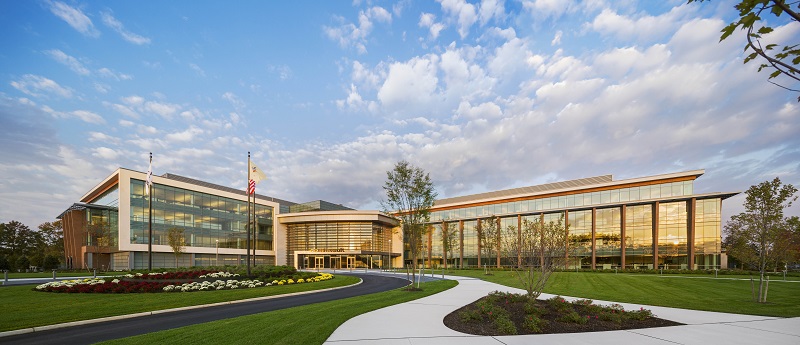 ---
Staying on track
Many businesses have been forced to work remotely this year. Rotwein+Blake is no different, but the firm was able to pivot quickly thanks to technology that was already in place.
Aavart Patel, the firm's director of projects, noted that the practice has had remote workplace systems in place since Hurricane Sandy in 2012. The team has not hesitated to use it since then in the case of snowstorms or other instances when it was necessary.
"This wasn't even an issue, it wasn't something we had to think about," Patel said. "It was there for us to continue on the same platform."
That's not to diminish the importance of in-person collaboration, especially for an architecture and interiors firm that often has two or three people working on a design. The company reopened its office in July — with the proper precautions in place — which has only helped as it continues to work on client projects.
Cammy Hardison, R+B's director of interiors, cited one other important advantage of being in the office.
"We're still pretty detail-oriented, and one of the biggest challenges that we dealt with since the beginning of COVID was sourcing materials, because companies have gone on hold and their production has gone on hold, but some of our projects were still going," she said. "We're touchy-feely people, so we need to have that tangible thing, but I wasn't willing to have samples sent to the house. So we would have samples sent here, we would come in once in a while and check things out to try to put a palette together very quickly for some projects."