A rendering of the planned 200-room hotel at Bell Works — Courtesy: Somerset Development
---
By Joshua Burd
Local officials have cleared the way for Somerset Development to build a new 200-room hotel atop Bell Works, its adaptive reuse of the iconic Bell Labs complex in Holmdel.
The town's planning board last week granted approvals for the project, which calls for constructing the facility on the roof of the mixed-use, 2 million-square-foot building. The single-story hotel will line the perimeter of the roof, the developer said, allowing it to preserve a historic 60,000-square-foot photovoltaic skylight that spans the length of the building.
It will be the newest piece of a complex that is being repositioned from the nation's largest empty office building to a mixed-use campus with retailers, health and wellness services and other offerings — all of it anchored by nearly 1 million square feet of new office tenants.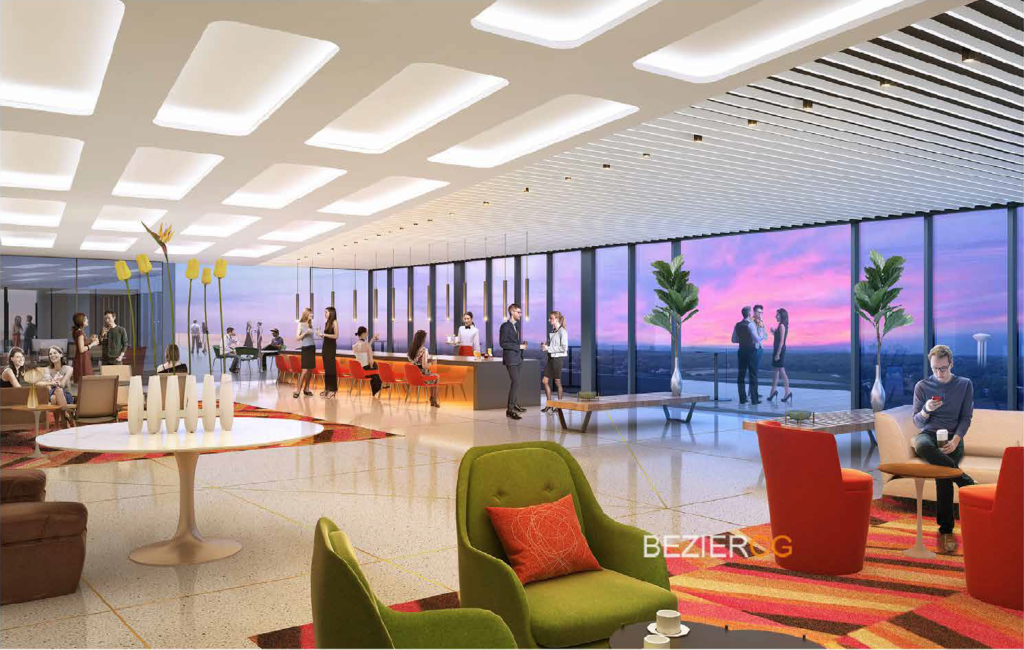 "This decision marks the latest development in our work to turn this formerly vacant, single-tenant campus into a thriving, self-contained metropolis in suburbia," said Ralph Zucker, Somerset Development's CEO and president. "As we continue to add new retail options and other components that all members of the public can enjoy, a hotel will add a new level of appeal for the many large office tenants on site that welcome out-of-town visitors to their business or to conferences.
"We are pleased that Holmdel officials and the wider community have aligned in our vision, and look forward to welcoming additional businesses as we continue to transform Bell Works into an unrivaled commercial destination."
The developer indicated that many of the country's top hotel and hospitality operators are vying to be involved in the project on Crawfords Corner Road. According to a news release, Somerset is now reviewing responses to requests for proposals.
The approvals come after a busy year at Bell Works. Last fall, Somerset welcomed its anchor tenant when technology firm iCIMS opened its new 350,000-square-foot headquarters in the building. Another large tenant, software solutions firm WorkWave, moved into its 72,000-square-foot space earlier in the year.
Zucker's firm has also celebrated the opening of the new Holmdel Township Library and Learning Center, which features new educational programs and services, as well as updated technological infrastructure and a museum dedicated to preserving the building's unique history. Bell Works also unveiled its new rooftop deck and lounge for tenants and visitors.
Other tenants include the likes of Guardian Life Insurance, International Flavors & Fragrances, Acacia Communications and Jersey Central Power and Light, among many others. Those tenants are supported by a ground-floor, indoor pedestrian plaza that mimics a downtown boulevard, with offerings such as a food hall, a Montessori education facility, a fitness center and a beauty salon.
By saving the skylight, Somerset is able to bathe the indoor pedestrian street in natural light.
"As Bell Works continue to expand its wide range of uses and amenities, we are seeing tremendous interest from tenants in the technology sector and the rest of the business world — leasing over 800,000 square feet of office space over the last 18 months," said Garibaldi Group President Jeff Garibaldi, whose firm is the exclusive broker for Bell Works. "Though some great space remains available, we expect that the project's incredible momentum will allow us to be fully leased by the end of 2018."
The Bell Labs building, designed by Eero Saarinen, was built between 1962 and 1964 and was the birthplace of some of the world's foremost inventions and research concepts. In its 40-plus-year history as the research headquarters for Bell Laboratories, Lucent and Alcatel-Lucent, the building housed seven Nobel Prize winners, who conceived theories for the laser, the Big Bang theory, cellular technology, the transistor and others.