Landlords and technology firms say tools such as smart meters, sensors and cloud-based platforms can help reduce a building's carbon footprint, which can come with the equal or greater selling point of cost savings on energy.
---
By Marlaina Cockcroft
For a building that is so closely tied to innovation, it's no surprise to see the use of technology on display at the landmark Bell Works campus in Holmdel.
Look no further than a server that "allows us to manage hundreds if not thousands of devices within our building in real time at all times," said Joel Shandelman, the property's chief technology officer, providing data from across the 2 million-square-foot campus. He notes that artificial intelligence software from BuildingIQ, a cloud-based platform, then uses that data to help the HVAC system operate both effectively and economically.
The tools have become indispensable in the pursuit of two key goals — energy efficiency and sustainability.
"Landlords have to consider both," Shandelman said. "They want to do what's right for the environment, and not only that, the tenants expect that the landlords will do more for the environment. … But of course the landlord is running the business, and the business also has to run more efficiently."
Technology can help building owners and operators do both. According to landlords and service providers, tools such as smart meters, sensors and cloud-based platforms can help reduce a building's carbon footprint, which can come with the equal or greater selling point of cost savings on energy.
Bradford R. Klatt of Logical Buildings, a Livingston-based software firm that helps landlords achieve energy and cost savings, said utilities normally charge based on assumptions about a property's energy usage, especially during peak demand times. But the company uses smart meters to help clients track their actual consumption, ensuring landlords or owners don't pay more than necessary.
With its latest mobile app, SmartKit AI, Logical Buildings helps commercial and residential buildings use real-time data to track temperatures and energy usage. The platform can also monitor equipment within a building, as well as water and air quality, thanks to the growth of WiFi-enabled sensors and other so-called internet of things devices.
And, under a new program known as GridRewards, Logical Buildings helps ratepayers earn cash rewards and reduce their utility bill by performing certain energy-efficiency activities in unison. The firm launched the program in April in conjunction with Sustainable Westchester, a consortium of municipalities in New York's Westchester County, using cloud technology to connect with Con Edison smart meters and thermostats.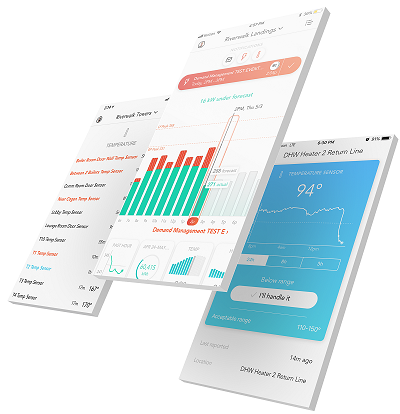 "You can save 20 percent on your energy bill just by literally turning down your thermostat when we ask you to," said Klatt, a partner and co-founder, who also co-founded the former Roseland Property Co. Logical Buildings, which works with existing and new-construction buildings, has a host of well-known clients in New Jersey, including Kushner Real Estate Group, AvalonBay Communities Inc., Greystar, Equity Residential and others.
Klatt said the upfront costs for its system are more than balanced by the savings. Devices can be installed for $70 or $80, and the software costs $7,000 to $8,000 a year. Energy savings are between $40,000 and $70,000 annually, he said, adding that the system benefits commercial tenants as well as owners, since tenants in an office or mall space pay a share of energy costs.
Such is the promise of another tech company, InteliGlas Corp., which is looking at extending its offerings into New Jersey. The Pasadena, California-based firm launched in 2018 with a platform that uses artificial intelligence to monitor and optimize everything from boilers to elevators to lighting inside commercial buildings.
Rhyne Brown, InteliGlas' strategic sales director for North America, said the system is possible thanks in part to advances in so-called sensorization — using WiFi-enabled devices to quickly capture information within a building. That includes devices that can be used to outfit existing thermostats, HVAC equipment, plumbing and other infrastructure without having to "rip and replace everything" in order to analyze an older building.
"The sensors we use weren't here 10 years ago," Brown said.
The trend has created a data stream for what the firm calls Ripley, its artificial intelligence or "autopilot" system, which uses those metrics and other cues to essentially run a client's building. The platform responds to not only changes detected by the sensors, but external information such as current weather and extended forecasts, to make adjustments with an eye toward efficiency and comfort for tenants.
The cloud-based, self-learning system also provides around-the-clock updates to landlords, property managers and building engineers via an administrative dashboard — including when something is about to go wrong.
"It's real-time notification of things within the system which are not working within the appropriate parameters," Brown said, such as when a fan is vibrating. "One of the concepts here is to catch things before they run to fail. That's a principle that is helping people conserve the capital investment that they have in the building."
The platform typically requires a landlord to invest around 70 cents per square foot, he said, with options including an air filtration and monitoring system. But InteliGlas says users can achieve cost savings of more than 30 percent and as high as 65 percent.
Artificial intelligence is also key for Somerset Development, the owner and operator of Bell Works in Holmdel, in managing energy and costs at the sprawling office, retail and restaurant campus inside the historic former Bell Labs facility. Shandelman, the CTO, said the property uses a building management system from Virginia-based Tridium to collect real-time data from throughout the campus, which is in turn analyzed by its BuildingIQ platform.
In one example, data from the sensors directs the outside air dampers to let more or less fresh air in as needed, depending on the temperature indoors, Shandelman said. In another scenario, motion sensors can tell where people are moving about in the building and decrease temperature levels in one area while increasing them elsewhere.
This data is especially helpful in the winter.
"In a manual system, the building engineer comes in at 5 or 6 a.m., turns it on and hopes that by 9 a.m., it's comfortable. BuildingIQ knows exactly how long it takes for the temperature to dissipate and to move downward based on outside air temperature and humidity," Shandelman said, so it can calculate the exact time to turn the heat on.
Those capabilities do come with a cost. Bell Works invested about $1 million between Tridium and Building IQ, which was developed by a Fargo, North Dakota-based company, although Shandelman noted that "a significant portion of the expenses included upgrading the aging pneumatic controls on various pieces of equipment to digital controls." The investment also included customization of the software to fit better with Bell Works' needs.
Somerset is planning other energy efficiency upgrades at Bell Works. Shandelman said the firm is installing roughly 11,000 LED lights with cloud-based software that will allow it to control which ones go on and to what intensity throughout the day. That will represent an investment of roughly $1 million, but the developer believes the steps are well worth the cost.
This year already, Bell Works has saved some $1 million on energy costs, "and we're going to have those savings year-in and year-out going forward," Shandelman said.
A case in point
Logical Buildings' clients include a host of well-known, long-established developers and landlords in the Garden State, many of whom can attest to the benefits of being forward-thinking when it comes to technology.
One such client, Kushner Real Estate Group, uses smart meters "to get real-time data on the (energy) consumption throughout the common areas of the building," according to Regional Property Manager Jeffrey Epstein. That's helped KRE keep energy usage lower during peak times, he said, and it uses the data to negotiate rates with third-party companies.
"We've been able to save tens of thousands of dollars on negotiating rates for the following year," said Epstein, who covers Jersey City for the Bridgewater-based firm.
Logical Buildings' SmartKit AI platform also monitors maintenance areas through the app "and it really is a great building management tool," Epstein said. It alerts property managers and superintendents to issues such as a leak in the boiler room, so they can address it early rather than "after it infiltrates an apartment beneath it," which would be more expensive to repair.
"As a company, we are mindful of sustainability," he added, noting its buildings have energy-efficient features like LED lighting. KRE also gets state incentives for sustainable or energy-efficient practices under the U.S. Green Building Council's Leadership in Energy and Environmental Design rating system, New Jersey's Clean Energy Program and other initiatives, although he doesn't think these features attract renters.