A rendering of the planned 200-room hotel at Bell Works — Courtesy: Somerset Development
---
By Joshua Burd
At full build-out, the massive Bell Works project in Holmdel will be home to some 8,000 daily office workers.
But newly unveiled plans for a rooftop hotel are a reminder of the project's potential to be much more than a repurposed corporate campus.
For one thing, Somerset Development President Ralph Zucker said his firm is building out up to 60,000 square feet of conference and event space. Those facilities range from small eight- to 10-person meeting rooms to what he describes as the jewel box at Bell Works, a glass-enclosed, nearly 14,000-square-foot ballroom overlooking the nearby lake.
It's why Bell Works' potential as a hospitality venue is "almost unlimited" as part of Somerset's effort to repurpose the iconic Bell Labs research campus, Zucker said. Already, the building has hosted more than 5,000 guests at a time within its vast quarter-mile-long atrium.
"We will be careful to curate and make sure the events are something that programmatically fit in with Bell Works … and don't interfere with the tenants and the day-to-day business," Zucker said. "But we have ample room for events on weekends."
Somerset's plans for a 200-room hotel moved forward late last month after gaining approval from the Holmdel planning board. The single-story hotel will line the perimeter of the building's roof, allowing it to preserve a historic photovoltaic skylight that spans the length of the 2 million-square-foot complex.
Zucker said his firm is now reviewing proposals from some of the country's top hotel operators, which began as a pool of more than 15 candidates and is now being narrowed to a handful of finalists.
"Bell Works is a legacy project for us," Zucker said. "Although (the hotel) is intended to be a revenue driver, its main purpose is to be part of the ecosystem of Bell Works and to be a resource to both our tenants and to our larger community of users.
"And because of that, there's a lot of filters that we're looking at. It's not just the highest bidder or the best management fees, but it's also … who we feel is the best programmatically to fit into the vibe and the urban feel of Bell Works, who is the best fit for our conference center."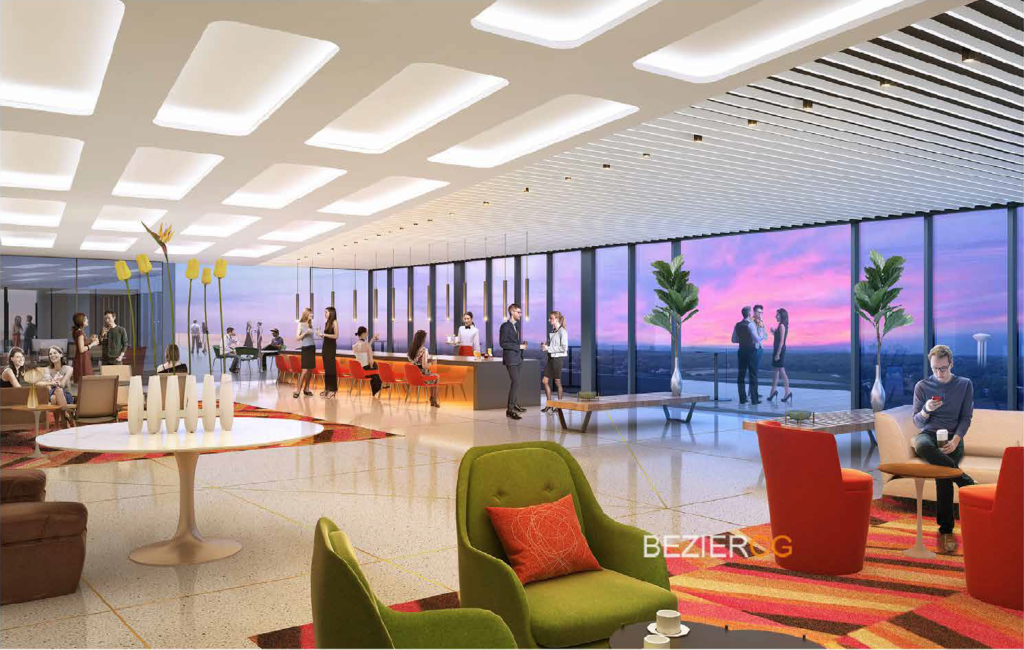 The developer will have a built-in customer base at a complex that is home to dozens of companies, many of them with international ties. But Zucker believes the hotel can draw from the greater Jersey Shore region and as far away as Newark Liberty International Airport, citing a lack of new hospitality construction in the area.
That's not to mention distinctive setting that Bell Works will offer, given Somerset's plans to create a dynamic, mixed-use environment anchored by an indoor pedestrian boulevard. Zucker feels that vibe will be a draw for everything from weddings to celebrity photo shoots, which will be further supported by facilities such as kitchens and green rooms on site.
"This is definitely going to be something that is well-suited to the 'metroburb' and in line with our modern aesthetic and look and feel — both in terms of the design of the hotel and in terms of the attitude," Zucker said.
The approvals for the hotel come after a busy year at Bell Works, which sits on Crawfords Corner Road. Last fall, Somerset welcomed its anchor tenant when technology firm iCIMS opened its new 350,000-square-foot headquarters in the building. Another large user, software solutions firm WorkWave, moved into its 72,000-square-foot space earlier in the year, and the complex will soon welcome Guardian Life Insurance to a 90,000-square-foot space.
Zucker said Bell Works' nearly 1 million square feet of office space is now around 75 percent leased. He added that the Somerset and its brokers with the Garibaldi Group are now negotiating with other prospective tenants, but are still entertaining new opportunities for the remaining availabilities.
The firm is also focused on filling out the retail space, which will further reposition what was the nation's largest empty office building to a mixed-use campus with shops, health and wellness services and other offerings. A new public library has opened at Bell Works, as it steadily adds options such as Booskerdoo Coffee, a Montessori education facility and a food hall that is soon to come.
"The building is alive and there is just an amazing amount of energy," Zucker said. "Retail is now beginning to really get exciting."